Japanese Cooking Club Essential Plan
ANNUAL membership includes:​
Access to video cooking lessons that spotlight a Japanese ingredient or technique
Recipes to help you practice what you learn in the video cooking lessons
Access to a growing recipe library of 100+ plant based Japanese dishes
Access to the members ONLY area using your favorite tablet or smartphone (via the Kajabi app)
Access to a new community of smart and saavy home cooks who want to eat healthy Japanese food
Email support for questions related to lessons and Japanese cooking
Sample video cooking lesson
How to access the members area with your smartphone/tablet (via Kajabi app)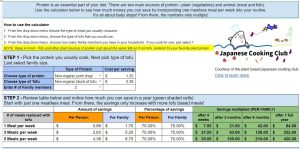 after you become a member, could this be you ?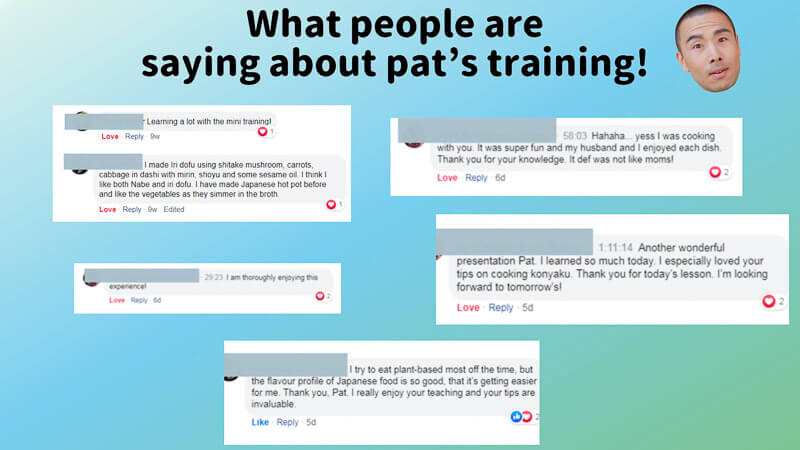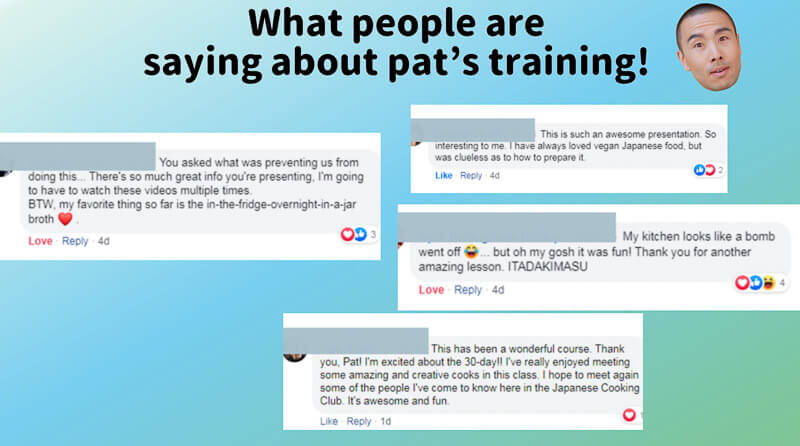 Frequently Asked Questions

Who the club and programs are for –
The Japanese Cooking Club and Pat's other cooking programs are for smart and curious home cooks who are serious about making simple and authentic Japanese meals at home.
I designed these offerings for foodies who love to cook and eat. And most importantly, people who take full responsibility for their life and choose to put in the work to grow their knowledge and skills.
If you're looking for a structured and organized way to learn about Japanese cooking, with up-to-date tips, a supportive network and accountability with community, this is for you! 
Who the club and programs are not for –
If you're not willing to put in the work and apply the valuable information, my programs may not be the best fit for you.
I do my best to fill the lessons with valuable information, and strive to encourage ACTION.
We set and share MONTHLY goals and encourage each other to stay accountable.
If I'm vegan is this a good fit for me?
If you're a strict vegan who does not wish to eat ANY animal products, unfortunately my programs may not the best fit for you.
As you may know, meat and especially fish play a common role in the Japanese diet.
Because of that, i cannot guarantee this as a vegan cooking club because it's part of my heritage, I do not plan to eliminate them completely from my diet.
that being said, the Japanese cooking club was created for YOU and the dishes that make up the monthly core content of the Japanese cooking club emphasizes whole food plant based cooking. The same goes for the ichijuu sansai cooking class, vegetarian sushi workshop, and the otsukemono workshop.
Tofu Ryouri Online and the soy workshop do call for some animal and fish products, for example dashi (Japanese fish soup stock.)
Last – I believe a healthy diet is one that is balanced and can include all things in moderation. I also believe food is meant to be enjoyed. And after all, what's a life worth living if you can't enjoy it?
What if I don't consider myself a good cook?
I wasn't a good cook when I first started (in college.) And if that's how you feel, it doesn't mean you can't learn. I'll teach you Japanese skills and techniques that you can apply to other non-Japanese cuisines as well.
And what better way to learn, than by surrounding yourself by like-minded people who will support you in your journey?
What makes the Japanese cooking club different from other cooking programs?
I care deeply about lifelong learning, and demonstrate that by example. Always reading and always trying and testing new things, especially in the kitchen. So that you can learn quicker, with less stress and less disappointment! 
I also love to help people, and my goal here is to help you succeed.
I'm not the type of person who's going to sell you something, and not show up for you.
When you invest in my offerings, you'll get quality video cooking lessons AND regular check-ins from me personally plus, you'll be connected to a group of like-minded Japanese food loving home cooks just like you! 
Cooking courses and classes are usually one time deals and don't have a community built in.
Nor do they have the opportunity to show off your food and get the support you need and REWARD you in the process! 
Plus, because I believe there's always room for improvement, I'll be regularly asking you for feedback on what I can do to make it a better experience for you. 
And like I said earlier, this is a community and there will be plenty of opportunity to interact with, learn from and support each other!
Will I get full access to the club or programs all at once?
Yes, login details will be provided via email and you'll get immediate access to everything starting the following Monday.
If you purchase the Japanese Cooking Club membership, it will be updated each month with video lessons, recipes, and fun activities! There are currently over 100+ meat and seafood free recipes waiting for your to discover
If you purchase Tofu Ryouri Online 2018, you'll get 30 video cooking lessons and recipes centered around Japanese tofu
If you purchase Tofu Ryouri Online 2019, you'll get 24 video cooking lessons and recipes centered around Japanese tofu 
If you purchase the Soy workshop you'll get- 10 video cooking lessons which generally takes 3-5 days to complete. 
If you purchase the otsukemono workshop you'll get – 10 video cooking lessons which generally takes 3-5 days to complete. 
If you purchase the vegetarian sushi workshop you'll get – 10 video cooking lessons which generally takes 3-5 days to complete. 
If you purchase the soba workshop you'll get – 10 video cooking lessons which generally takes 3-5 days to complete. 
If you purchase the ichijuu sansai class you'll get – 3 days of video cooking lessons which take just over 5 hours to complete. 
Can I buy the other programs and workshop separately?
Yes, when open for enrollment you can buy them in the store. 
If I join the Club, do I have to join the community?
you don't have to do anything you want to.
previously the community was housed on facebook, but we're trying something new and different in August.  
though it's recommended, if you feel like you can cook and learn independently more power to you!
you know what's right for you and that's what you should do! 🙂
Can I access the material on my phone or tablet?
Yes, you can access the materials using your smartphone or tablet when connected to the internet. The members area is available via your mobile browser, or using the Kajabi app.
I 100% stand behind my training programs and the Japanese Cooking Club and know they help people like you get the results you want.
if for some reason you're not 100% satisfied, email me within 30 days of purchase for workshops, and the Japanese cooking club monthly plan or 90 days for the annual plans and I'll promptly issue you a 100% refund. 
What happens if I want to cancel?
You'll retain your access for the remainder of your billing period (e.g. for the monthly plan – 30 days from the date of purchase).
If you do decide to cancel your monthly plan, we ask that you please let us know at least 7 days in advance of your next billing date (when we send you a reminder).
email [email protected]